Product Overview
Our StayLit 2-pack litchews are the perfect way to try our high-quality cannabinoid. Crafted in-house to ensure that they meet our high standards. We control the entire process from farm to customer, so you can be sure that you're getting a fantastic product.
Our natural formula contains potent cannabinoids that are known for their ability to promote relaxation and feelings of well-being. These cannabinoids are perfect for anyone who wants to enjoy the benefits without vaping or smoking. Sit back, relax, and let our product do the work for you.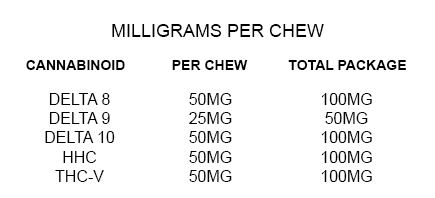 CHEW INGREDIENTS: CORN SYRUP, ORGANIC SUGAR. GELATIN, WATER, ORGANIC, CITRIC ACID, NATURAL MALIC ACID, ORGANIC GLYCERIN, ALCOHOL, ORGANIC SUSTANABLE PALM OIL, SORBITOL, SPINACH (COLOR) NATURAL FLAVORING.
NON VEGAN
#STAYLIT