Product Overview
We make our own Delta8 with their own flavor and terpene combinations to make a truely unique experience.
Each Cart is a authentic CCELL cart with over 1ml of Delta8.
STRAIN / EFFECT MENU: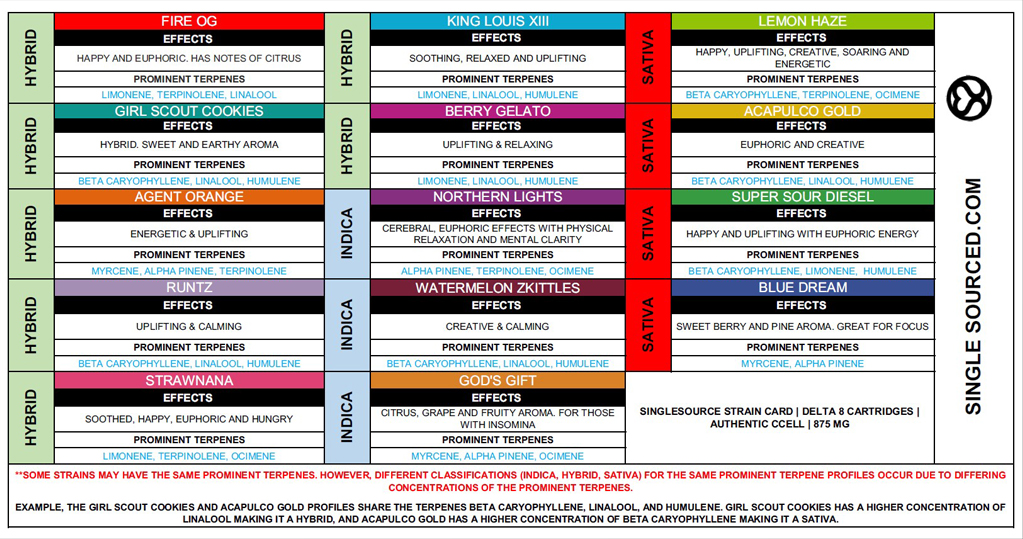 Reviews
(12 reviews)
Write a Review
5

Top notch

Posted by Tim on May 27th 2021

It's fantastic. Good going guys! Excellent carts.

5

Awesome

Posted by Daniel Cerda on May 13th 2021

Awesome and great flavor

5

Delta 8 cartridge

Posted by Suzanne Hester on May 5th 2021

Great selection. Good prices. Fast delivery. Awesome!

5

Berry Gelato is amazing!

Posted by Kesnei C. on May 4th 2021

This was my first time using any Delta-8 product, and I'm glad I picked this one! I bought a Exxus VV Snap for this cartridge, and it all worked perfectly. I was very happy with my choice of Berry Gelato. I got this to help with my anxiety and get me through unmotivated days, and it has even helped with my ADHD. I'm loving it!

5

Amazing

Posted by Aaron Billings on Apr 27th 2021

Truly the best delta 8 on the market !

5

Delta 8

Posted by Suzanne Hester on Apr 14th 2021

Girl scout cookies is the best I've tried. I'll be sticking with this in future. Way to go Single Source!

3

It's ok, but hits super heavy.

Posted by Tristan on Apr 8th 2021

I enjoy these overall, my only complaint is that when you hit it it's often times overwhelming. I take one 2/3 second draw, and my lungs feel like they're being abused by a gorilla and I'll be coughing for at least 5 minutes. The flavors aren't as good as I thought they were going to be either. I understand this is a new product though as well. Overall though, in terms of how you feel afterwards post smoke - It feels as expected. The effects are similar to that of Delta 9 THC, maybe a bit more intense depending on how many draws you take. I will add, I think the hybrids and indicas are better than the sativas (for this brand), because it's easier to fall asleep with this rather than stay awake. Ultimately, that's subjective though. Hope this helps someone. Take it ez.

5

Flavor !

Posted by Aaron Billings on Mar 3rd 2021

I have tried several big name delta-8 carts, and yes they were good and got me somewhat to that familiar place but was lacking . I then decided to switch to "delta-9" carts that was a really bad decision because never knew where they came from here in an illegal state . But came across this brand and ordered, received it, package and shipping speed was seriously like two days and the effects were far more superior than the previous big name delta-8 brands. Sorry for the life long story but trust me ! These things smack harder than any supposed real delta 9 or a any othe delta 8 cart I've tried ! Don't hesitate with these !

5

Flavor

Posted by Todd on Mar 2nd 2021

Tastes like the real thing.